Carter Cruise blindfolded,
oiled down, sybian blasted to
multiple orgasm and brutally
throatboarded! | Carter Cruise | Matt Williams


Nov 12, 2014




All natural tan blonde utterly destroyed by relentless deepthroat and sybian orgasms

Carter Cruise is the perfect package. Blonde, tan and blessed with a banging body. The only way that toned all natural body could possibly look any better was if we oiled it down, bound her onto a sybian and throatboarded her into next week. Which is exactly what we plan to do to her today. This is multitasking training for sluts.

Restrained onto a sybian, the world's most powerful vibrator, Carter's muscles gleam under a coating of baby oil. A custom made wooden bondage device keeps her head in place and unable to escape the dick. Time to drill her head into the post via dick. As the hard cock owns her throat, Carter's eyes glaze over. It is a relentless reshaping of her throat as we mold it to be custom fitted. All the while, wave after wave of orgasm is washing over her bound body thanks to the the sybian.

The pounding of the cock balls deep acts as breath play, sending Carter spiraling into sexual subspace. Drool pours out and coats those perfect perky breasts. Her makeup is destroyed and her breath is ragged. She is unraveling before our eyes. The pretty porn starlet is gone, leaving a sexual gasping animal in its place.

When we have had our fill of her face pussy, we walk away, leaving a shuttering sweaty mess firmly bound on the sybian. Carter is going to keep on cumming for as long as we see fit, machines never get tired. She is in for a long day...

Wholesome blonde Carter Cruise
restrained in device bondage
and brutally trained, epic
deepthroat! | Carter Cruise | Matt Williams


Oct 17, 2014




Tan all natural girl next door belted down in strict bondage and used hard from both ends

Sexy, tan and blonde with big blue eyes, Carter Cruise is the perfect package. She is the sort of girl you WISH lived next door. If you ever wondered what an all natural CA girl would look like if she somehow ended up belted down in strict device bondage and used hard without mercy in both holes by big dick, wonder no longer. Today we find out.

Bound in leather belts and cuffs in a classic "fuck me" position with a twist, Carter is deliciously exposed from both ends. Her tanned legs point up to the ceiling and her toes are tied together. That perfect pussy is calling out for some attention and we oblige with both the celebrator and the hitachi. She shutters and cums her her bondage. Enough warm up. It is time to train some holes.

We first sheath ourselves balls deep in that waiting and open mouth hole, Carter's head cranked over the edge of our fuck table keeping her face at the perfect height. We reshape out her tonsils to be a flawless fit for our dick before moving to the other end. Back and forth we switch, using both mouth and pussy as we so desire. Carter cums and drools appreciatively on the cock. Her bondage keeps her securely in place.

The bondage, the dick, the orgasms all combine to blast Carter into dazed sexual subspace. We are not done with that worked over pussy however, and lay out the hitachi to rip out one last orgasm. She gives it up one last time as her eyes glass over. We leave our girl next door lolling and limp, covered in her own drool and unable to recall her own name. Girls next door are fun to play with, aren't they?
Blonde girl next door Carter
Cruise tied up and ragdoll
fucked from both ends messy
epic deepthroat! | Carter Cruise | Matt Williams
Sep 29, 2014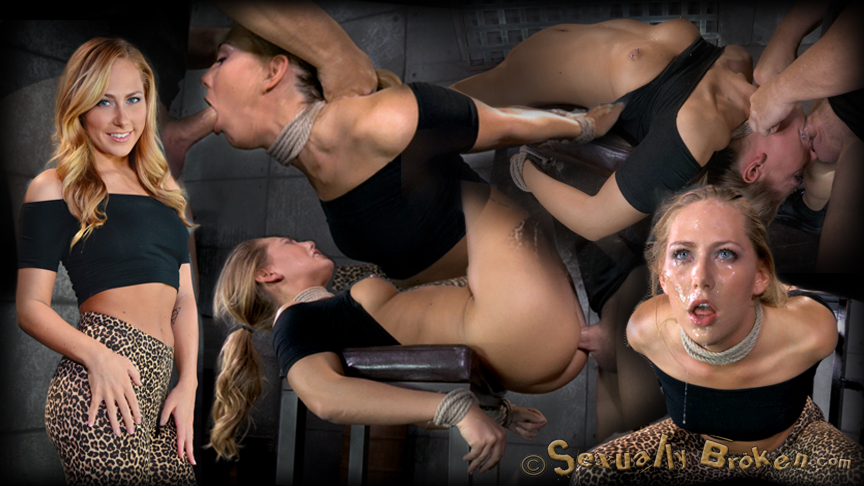 Carter Cruise is a beautiful blonde that looks too wholesome to be into the kinky things that she is into. But behind that girl next girl facade beats the heart and loins of a sexual animal. She is here today to get tied up and ragdoll fucked until her big blue eyes rattle in her skull. Lucky for this fucktoy, that is exactly what we specialize in.

Bound down in a chair tie with her arms cranked behind her in a strict strappado, Carter's mouth hole is positioned at perfect fucking height. A neck rope is added to make a handle to better guide that facepussy. We walk up and make full use of that face. As the cock goes in, the drool comes out. Carter sputters and gasps as her world is reduced to being a cock sheath. All she can do is try and survive, sneaking in gulps of air when she can.

Enough warmup. Shifting a still bound Carter into our handy fuck stool, we now have access to both ends. We fuck that face a little before yanking down those skintight leggings to get full use of that pussy. And then it is on. Back and forth we dip, using both ends to the hilt, completely owning Carter's holes. She cums, hard, unable to get on top of is as she is overloaded with the dick. He makeup is destroyed and her face is shiny and covered with her own juices. We pound out that pussy and leave behind our initials.

By the times we are done, Carter is a twitchy, glassy eyed lump, held up on the chair only by her bondage. Today school was in session and the lesson was Sexuallybroken. We like teaching newbies Carter. You will be back to see if the lesson stuck...